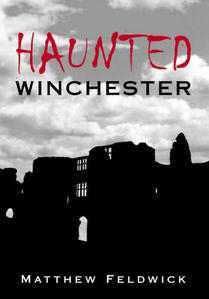 Haunted Winchester - new for 2006!
From heart-stopping accounts of apparitions, manifestations and related supernatural phenomena to first-hand encounters with ghouls and spirits, this collection of stories contains new and well-known spooky tales from around the ancient city of Winchester.
Ghostly Goings-on
Drawing on historical and contemporary sources Haunted Winchester contains a chilling range of ghostly accounts. This selections includes tales of spectral monks at Winchester Cathedral and phantom horses in the Cathedral Close, as well as stories of the Eclipse Inn where Dame Alicia Lisle, condemned by Judge Jefferies, still walks. This phenomenal gathering of ghostly goings-on is bound to captivate anyone interested in the supernatural history of the area.
About the author
Matthew Feldwick is a resident of Winchester who has long held an interest in the unusual history of the city. With his immense wealth of stories this made him the ideal candidate to write Haunted Winchester for Tempus. He is available for and enjoys presenting lectures and after dinner talks on the subject and can often be persuaded to meet interested parties in the field (or pub!) for more informal discussions.
For more information please e-mail him at the address below;